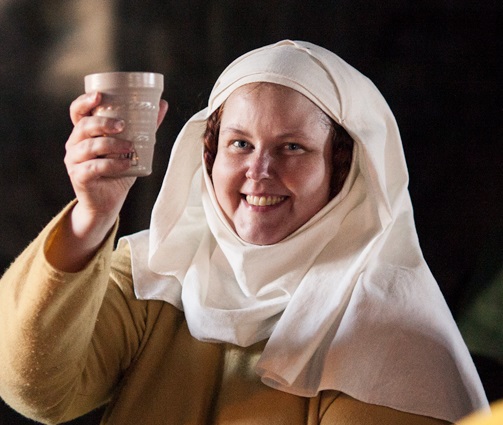 My name is Marie Hedén.
The 26:th of June in 2013 I started a Swedish medieval sewinggroup on Facebook wich became quite popular quite fast.
Today (18-04-2017) we have 5882 members. Mostly from Sweden, but the other nordic countries are represented as well as England and some members from the Baltic countries.
Before I started the group, my thoughts about medieval recreating was that I also wanted to be the sexy lady in the hollywoodmovies. I thougt that they were historically correct.
Because why would they otherwise be in the historical movies?
So I found some Swedish patterns which also came with a general description of what materials and decorations where used "during medieval times".
Patting myself on the back, as I thought I were very historically correct, I sew linnen outfits with a lot of synthetic decorative bands, laceing in the back and so on…
Then I started the group…
First I were quite angry with all "knowitalls" who said that I were wrong, but then I started to listen.
It took me about 6 months to change my thinking on what were correct and what whas beautiful.
But after that I started (in a small scale) to make myself and my husband new clothes, all sewn by hand.
I believed that it probably would take me about a year to sew one kirtle, and of course I still wanted to be one of the "beautiful people" so I made buttoned cotehardies to both me and my husband.
Talk about starting in the wrong end…
Two complete outfits took about 6 months to make (one for me – one for the husband) all sewn by hand with waxed linnen threads. It was both undergarments, kirtles, shoes and accessories.
So after the Medieval week in Visby I made anotherone for us, a bit simpler.
And now I've started to make very simple outfits for us as I started to realise that not everyone can be the king and queen so to speak.
And if you are in the process of starting your medevial journey, you can follow me step by step on the way as I make the simple, well sewn clothes we just started to appreciate.
———————————————————————————————–
Jag heter Marie Hedén.
Den 26:e Juni 2013 startade jag en facebookbaserad sygrupp som blev väldigt populär väldigt fort.
I dag (18-04-2017) har vi 5882 medlemmar. De flesta från Sverige, men även från dom andra nordiska länderna samt England och några av dom Baltiska.
Innan jag startade gruppen så tittade jag mest på historiska filmer och trodde att det var så det skulle vara. Vem vill inte vara den sexiga medeltidsdamen liksom.
Och eftersom det är historiska filmer så borde det vara historiskt korrekt va?
Varför skulle dom annars ha dom kläderna i filmerna?
Så jag letade på lite mönster som även hade en generell beskrivning om vilka material och dekorationer man använde "under medeltiden".
Jag kände mig jätteduktig och trodde att jag nu skulle vara historiskt korrekt när jag sydde linneklänningar med snörning bak och massor med syntetiska dekorband…
Sen startade jag gruppen…
Först var jag rätt arg på alla "besserwissers" som sa att jag hade fel, men sen började jag lyssna.
Det tog ungefär ett halvår att ändra mitt tankesätt angående vad som var korrekt och vad som var vackert.
Men sen började jag (i liten skala) att sy nya kläder till mig och maken, helt för hand.
Jag räknade med att det skulle ta ca ett år att sy en kjortel, och självklart ville jag fortfarande vara en av "dom vackra" så jag sydde knäppta cotehardies till oss båda.
Snacka om att börja i fel ända…
På 6 månader hade jag sytt två kompletta outfits till oss (en till mig och en till maken) helt handsytt med vaxad linnetråd. Allt ifrån underkläder, kjortlar, skor och accessoarer.
Så efter medeltidsveckan gjorde jag varsin till uppsättning, lite enklare.
Och nu har jag börjat på ett par väldigt enkla outfits till oss eftersom jag har börjat inse att inte alla kan vara kung och drottning, någon måste ju vara i andra änden också.
Så om du är i början av din medeltida resa så kan du följa mig steg för steg på vägen när jag syr dom enkla välsydda kläderna som vi har börjat uppskatta.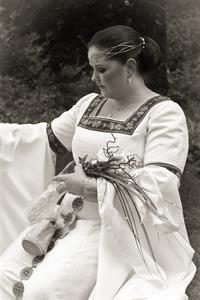 2011 – before I knew what I know today.
But still – the happiest day in my life