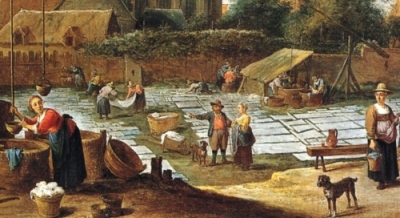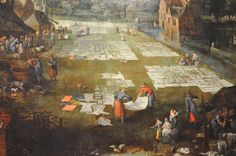 It's been a while since my last post now.
I have been working quite hard with making outfits for other people (something that I don't do on a regular basis, I rather learn others how to do it for themselves 
). I even ventured in to the field of shoemaking since my teacher past away some time ago, and both me and a friend felt that we wanted to honour his work by passing the knowledge on to new students.
But onwards to the subject for this blogpost…
In a Swedish medieval sewing-group on Facebook we often have discussed the issue of what colour linnen should be.
As most of us, I used to buy "bleached" or white linnen before, but a while ago I decided to try to bleach it myself, only using the sun, wind and regular washing (not detergent with bleach though).
And this is how it went…
I took a picture with a sample of the unbleached linnen attached to it, once a day.
After almost 2 weeks the weather started to get more unstable, so I haven't been able to have the linnen out for 24 hours between photos, so I pulled the plug on the project so to say. But it will be even whiter with every use for a while yet even if the process isn't as visible as it was the first couple of days 

The fabric have been washed 3 times during this time.
Some pictures is taken outside and some indoors. But I hope that you can see the fabric getting lighter by the day if you compare the difference between the test-cloth and the big one. Even in the first picture (24 hours in the sun) it is a suttle difference 

* * * * * * * * * * * * * * * * * * * * * * * *
Det var ett tag sedan jag skrev något här nu.
Jag har jobbat rätt hård med att göra kläder till andra (något jag inte brukar göra, jag lär hellre andra hur dom ska göra sina egna saker 
), jag doppade till och med näsan i ett nytt ämne. En kurs i skomakeri. Detta eftersom min läromästare gick bort för ett tag sedan och jag och en vän ville hedra hans minne genom att föra hans kunskap vidare helt enkelt.
Men nu till ämnet för detta inlägg…
I Vi som syr Medeltidskläder (på Facebook) brukar vi ofta diskutera det här med färg på linne. Och som de flesta av oss så brukade jag köpa "blekt" eller vitt linne tidigare, men jag bestämde mig för att testa att bleka själv, enbart med hjälp av sol, vind och vanlig tvätt (tvättmedel utan blekmedel dock).
Och det här är resultatet…
Jag tog en bild en gång om dagen tillsammans med en bit av det oblekta linnetyget fastsatt på tyget.
Efter ungefär 2 veckor så började vädret bli lite ostabilt och jag kunde inte längre ha det ute 24h i taget så jag bestämde mig för att sätta punkt för experimentet. Men det kommer fortsätta blekas ett tag till även om processen märkbart har stannat av nu 

Tyget har tvättats 3 gånger under den här perioden.
Några bilder är tagna utomhus och några inomhus så kvalitén varierar. Men jag hoppas att det går att se att det händer något, och att skillnaden mellan testlappen och det blekta tyget blir större varje dag som går 

Till och med i första bilden (efter 24 h) går det att se en svag skillnad.